Oy Machine Tool Co is a Finnish family-owned company founded in 1951. We offer our customers professional solutions with the high-quality tools and devices we import and sell. We focus on lifting and material handling, HVAC, welding, collaborative robots,municipal engineering and security solutions.
Our personnel consists of skilled professionals and we utilize the latest know-how of our international suppliers. As our customer, you'll get expert customer service and high quality products with reliable maintenance services.
RIGHT SOLUTIONS
Situations and needs vary, so do the solutions. We analyze our customers' needs carefully and deliver perfectly suitable solutions.
OUR EXPERTISE FOR YOU
We honor our customer promise by maintaining our professional skills. We ensure this by training our staff and developing our operations continuously.
You can benefit from our know-how and expertise on each stage of the service chain. We also provide installation work, technical support, training, maintenance and spare parts service, preventive maintenance services and financing options.
We take pride in delivering orders on time. Our logistics team works in cooperation with suppliers and carriers.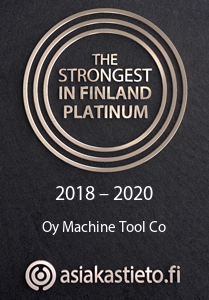 FUNCTIONAL ENTITY
We only work with reliable experts in the industry who have top of the line products. Our partners include, e.g. Ridgid, Harris, Pewag, Holmatro, EdmoLift, Indeva, Universal Robots, Smiths Detection and CEIA.
Our suppliers also require that we meet their expectations. We are required to be a reliable affiliate with skilled staff and a functional service organization.
CUSTOMER SERVICE
We offer you efficient and reliable personal service. Our customer service is here to help you.
Contact information:
Tel. +358 9 351 951
myynti@machinetool.fi